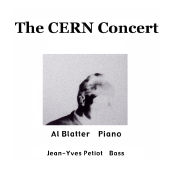 AL BLATTER DUO, "The CERN Concert"
Recorded LIVE at CERN--GENEVA, SWITZERLAND--September 8, 1998
This is my first CD. Jean-Yves Petiot and I had been enjoying playing in duet together for about a year. My late student / CERN Scientist - Inventor / Co-Producer Jean-David Pahud organized this event in September, 1998. We taped the Concert LIVE to DAT, with no plans for a CD release. However, this recording began taking-on "a life of its own" in early 1999 when Jean-David had the tapes mixed and engineered into a CD format. Afterwards, my good friend José Miguel Ferreira (JMF Photography & computer consultant) began playing with CD packaging design. We eventually "arrived" at the present Cover Art and produced a few copies for a small group of friends and supporters towards the end of 1999. Eventually, more people began inquiring about purchasing a copy. One thing led to another and after some further production revisions, we finally released "The CERN Concert" officially in March, 2000.

TO HEAR SAMPLES AND / OR PURCHASE CD

1. A Time For Love (J. Mandel) 8:30

2. What's (the) Eleven For? (A. Blatter) 5:20

3. Easy To Love (C. Porter) 6:34

4. Easy To Remember (Rodgers-Hart) 7:37

5. Stompin' At The Savoy (Goodman-Webb) 3:57


6. My Romance (Rodgers-Hart) 7:58

7. Midnite.....Around (A. Blatter) 5:26

8. How About You? (B. Lane) 4:01

9. I Fall In Love Too Easily (Styne-Cahn) 4:03

10. Moment's Notice (J. Coltrane) 5:04


Total Time: 58:19


Produced By Al Blatter and Jean-David Pahud


Al Blatter: Piano
Jean-Ives Petiot: Bass


John Messersmith: Recording and Mixing Engineer


JMF: Photo and Graphics
---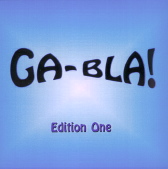 GA-BLA! "Edition One"
Recorded at STUDIO ARTEFAX; Lausanne, Switzerland
January 14, 2000
Chronologically, this is my second CD though it is my first Studio Recording. Christian Gavillet and myself had been writing music together for about a year at the time this was recorded. We decided to record a DEMO CD to document our Music. After preparing diligently for about 2 months, we recorded all the tracks in one day. Everybody played great, the energy level was extraordinarily high, and we produced a solid first CD together. As a result, we decided to release this as a "Mini-CD." We like to call the style of these Compositions--and the GA-BLA! concept--"World Jazz." We are presently in "Pre-Production" for our next CD with GA-BLA!: "Edition Two."


TO HEAR SAMPLES AND / OR PURCHASE CD

1. Fresh Whine (A. Blatter) 4:31


2. Un plan pour la Guinée (C. Gavillet) 4:09


3. Morning Waltz (A. Blatter) 4:14


4. Un sax enjoué au coeur des sons (C. Gavillet) 4:26



Total Time: 17:20


Produced by Al Blatter and Christian Gavillet

Al Blatter: Piano and Keyboards
Christian Gavillet: Reeds and Brass
Nicky Wetzell: Acoustic and Electric Guitars
Bob Harrison: Acoustic and Electric Basses
Marc Erbetta: Drums


Gilles Abravanel: Recording and Mixing Engineer

Graphics: G. Covino

---
AL BLATTER TRIO, "Dumont 18"
Recorded LIVE at Galerie Dumont 18--GENEVA, SWITZERLAND
June 13, 2000
Chronologically, this is my third CD and my first Trio CD recorded LIVE. This recording was hastened by the unexpected permanent departure to the U.S. of our Bassist at the time, Peter Bouteneff. We had been playing together as a Trio--with Jean-Philippe Larpin on drums-- for about a year. This recording most sincerely documents our Music together. It was a great evening and the subsequent "feedback" has been most positive. "Dumont 18" was released in October of 2000.

TO HEAR SAMPLES AND / OR PURCHASE CD

1. Laurie (B. Evans) 9:20

2. Someday My Prince Will Come (Churchill - Morey) 6:42

3. I Can't Believe That You're In Love With Me 4:40
(Gaskill - McHugh)

4. In A Sentimental Mood (D. Ellington) 7:22

5. Triste (A.C. Jobim) 7:43

6. Lush Life (B. Strayhorn) 6:47


7. Morning Waltz (A. Blatter) 6:20

8. It Had To Be You (Jones - Cahn) 5:44

9. Windows (C. Corea) 7:09

10. New York State Of Mind (B. Joel) 7:23

11. My Romance (Rodgers - Hart) 11:46



Total Time: 75:29


Produced By Al Blatter

Al Blatter: Piano / Voice
Peter Bouteneff: Bass
Jean-Phillipe Larpin: Drums

John Messersmith: Recording / Mixing Engineer


G. Covino: Graphics

---